8K4K Image Evaluation Platform
Products & Services
Evaluation Board & IP Core
8K4K Image Evaluation Platform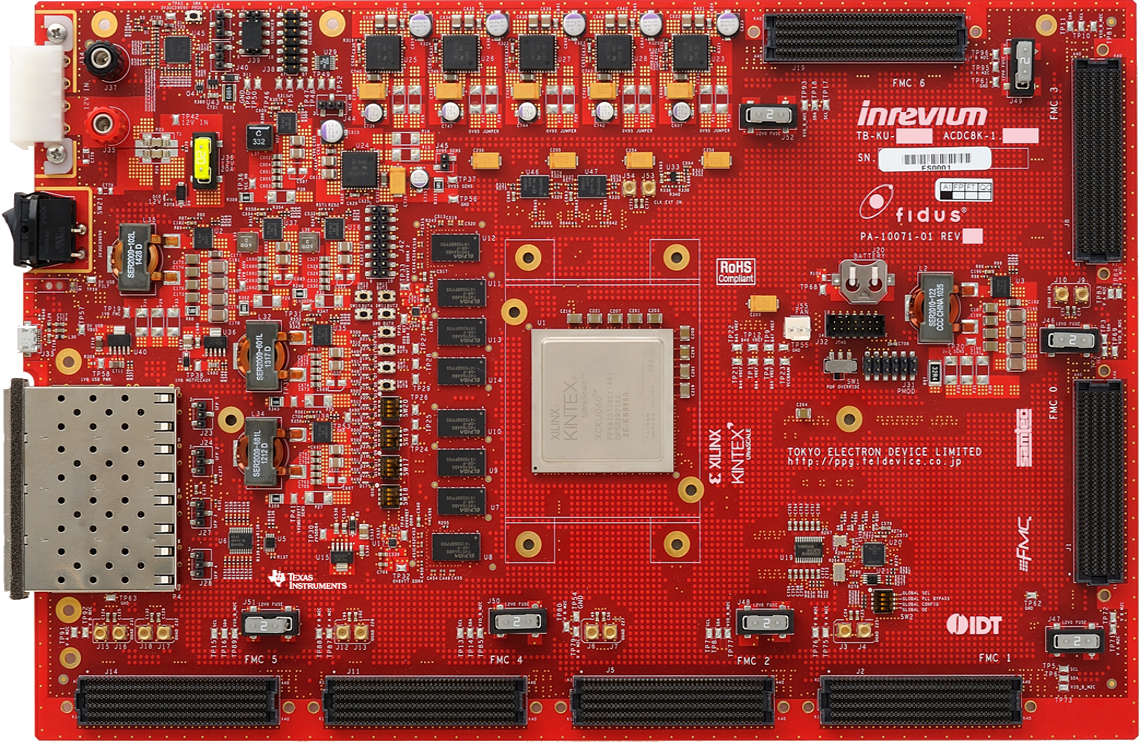 An evaluation board equipped with Xilinx Kintex UltraScale 115 FPGA. HDMI2. By combining with a video FMC interface card such as 0/DiplayPort1 2/12G-SDI, an 8K4K evaluation environment can be easily constructed.
Product specifications and features
Onboard device
Xilinx FPGA
: XCKU060-2FFVA1517 (TB-KU-060-ACDC8K)
: XCKU115-2FLVA1517 (TB-KU-115ーACDC8K)
Installed memory
DDR4 SDRAM (two 64-bit wide)
Interface
FMC x7
SFP+ socket
RS-232C(connectors are USB-B types)
PMOD (Digilent module interface)
Xilinx cable 10-pin header
General-purpose Pin Header
Push switch, DIP switch, LED
Clock
200MHz for DDR4
For image processing 148.5 MHz
156.25MHz for high-speed GTH transceivers
PLL for general-purpose clock
CONFIGURATION
QUAD Dual-SPI flush
Board size
H300×W400(mm)
Other accessories
12V power supply
Remarks
Not all pins are connected to the FPGA.
Product Block Diagram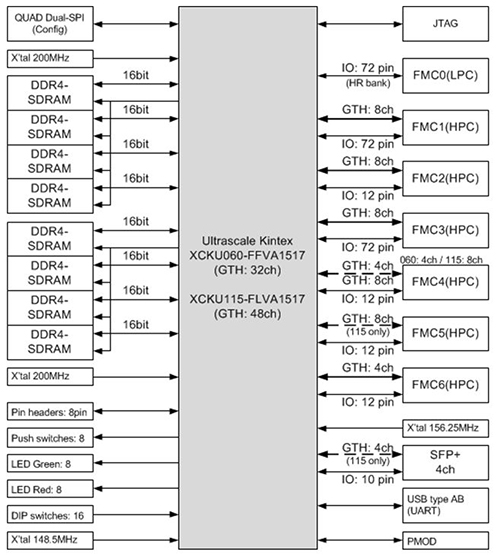 FMC Connector Signal Assignments
FMC
GTH
Standard I/O
060
115
LA Group
Voltage
FMC0
0
0
72pin
3.3V
FMC1
8
8
72pin
1.8V
FMC2
8
8
12pin
1.8V
FMC3
8
8
72pin
1.8V
FMC4
4
8
12pin
1.8V
FMC5
0
8
12pin
1.8V
FMC6
4
4
12pin
1.8V
Use case
■ 4K8K video solution
You can connect an optional inrevium FMC card and use the free example design to evaluate a variety of video applications in a short period of time.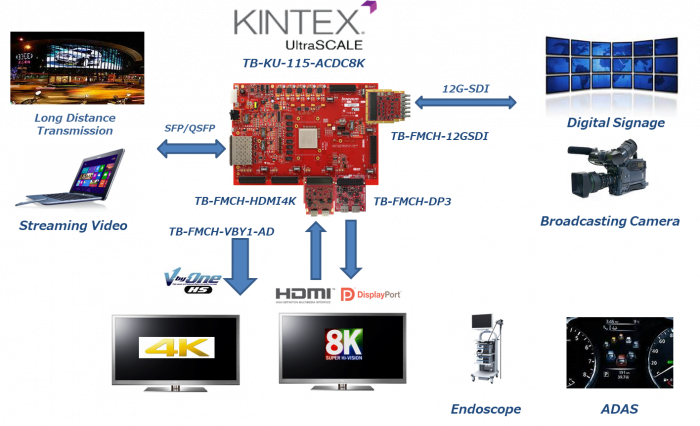 Order information
Product Model Number
TB-KU-060-ACDC8K
TB-KU-115-ACDC8K
Deliverables
User Manual
Circuit diagrams
Reference design (Verilog HDL)DDR4 memory controller: MIG-generated)
Power supply
Remarks
Documents downloaded from the website dedicated to buyers on the TED Support Web
Collaborate to Innovate
Incubation Program for Startups and IP Vendors
Collaborate to Innovate! We are looking for startups and IP vendors that are actively working on FPGA-based IP development or FPGA-based hardware development. We will provide various resources to incubate your business. For more information, visit the Collaborate to Innovate special website.
Related products
Contact Us
Please feel free to contact us.
Post-purchase technical support
Product appearance