Products & Services
Design & Manufacturing Service
Design Service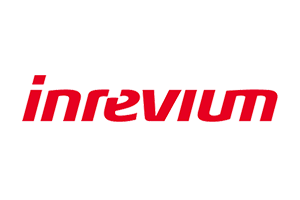 TOKYO ELECTRON DEVICE has an extensive development track record with specialists in various fields such as board design, software design, FPGA design, enclosure design, and power supply design. Based on the specifications required by the customer, we provide support from design development to prototype production and after prototyping, as well as suggestions for customization based on our own products. We are also engaged in joint development with universities, research laboratories, and other organizations that possess cutting-edge technologies.
Features
Providing truly one-stop services from prototyping to mass production

High-speed data-transfer technique using FPGA

Technological capabilities as alliance partners, including FPGA manufacturers

High-quality design and development
■Providing truly one-stop services from prototyping to mass production
We provide one-stop "manufacturing" services from the proposal stage to prototype development, mass production and post-production support.
Even if it is difficult to transfer from the prototype to the plant, we will be able to handle mass production at our own plant (Tokyo Electron Device Nagasaki).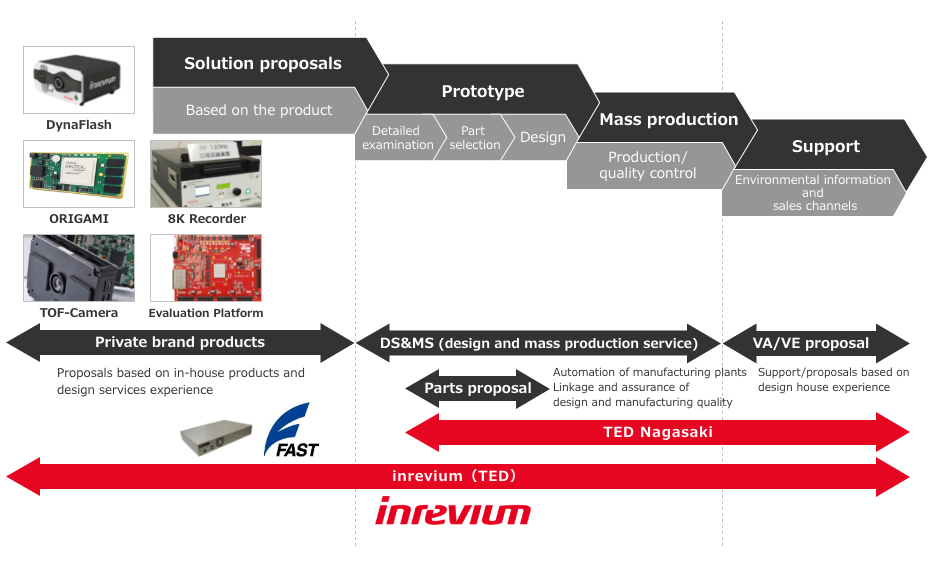 DS…Design service
MS…Manufacturing service
■High-speed data-transfer technique using FPGA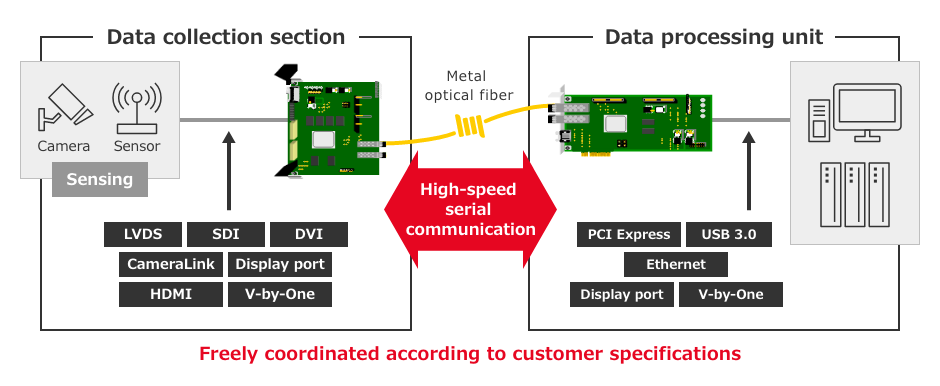 ■Technical strength as alliance partners of FPGA suppliers
We specialize in FPGA development and design development, and we can respond to any FPGA development of Intel®, Lattice, Xilinx.
We also have partner contracts with leading partners Intel® FPGA, Texas Instruments (TI) and Xilinx to provide better products.
By working closely with these partners, we will provide high-level technological capabilities.
■High-quality design and development
In order to provide products that satisfy our customers, we will collaborate with the Tokyo Electron Device Group and partners in responding from specification examination to manufacturing.
■Development system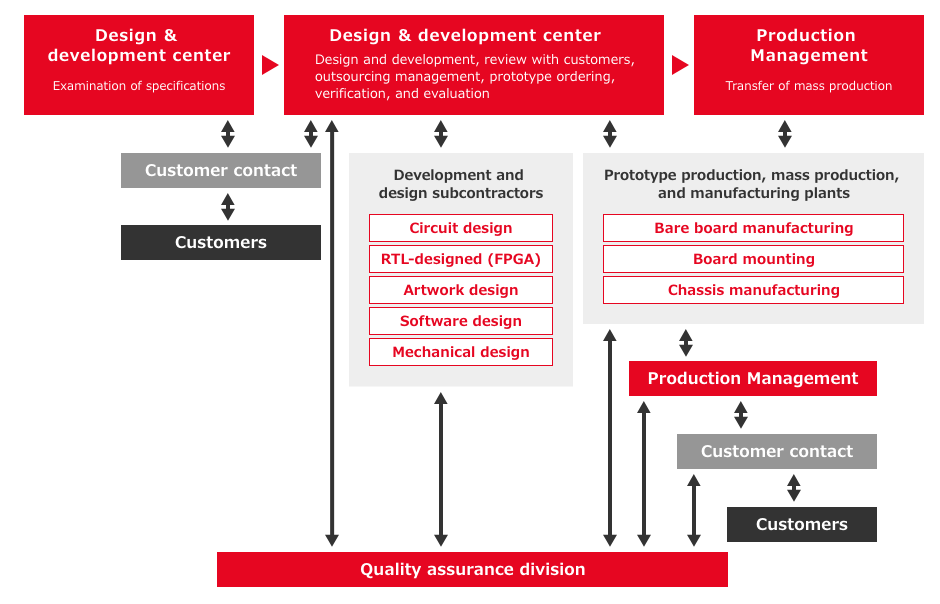 ■TOKYO ELECTRON DEVICE DESIGN AND DEVELOPMENT CENTER
Development base: Yokohama
Supports a wide range of applications, provides high-quality services, and responds to needs with the latest and advanced technological capabilities
Compatible with various developments, including board design, software design, FPGA design, enclosure design, power supply design, etc., from the stage of specification examination to preparation, design, trial manufacture, and verification of specifications
Experienced specialists in various areas reduce design risk and provide more reliable and efficient design services

Development track record
■Various development achievements in the fields of imaging and broadcasting equipment, industrial equipment, and medical equipment
Our design consignment is mainly used in the following industries.
Industrial equipment: 34%
Medical equipment :25%
Research institutes and universities: 18%
Broadcasting and imaging equipment: 17%
※ 200 designs contracted out annually in fiscal 2018
Key Technologies of Tokyo Electron Device
Field
Core Technologies
Leading-edge FPGA
Intel® Stratix ® 10 FPGA, Intel® Arria ® 10 FPGA, Intel® Cyclone ® 10 FPGA
XILINX Virtex UltraScale+,Kintex UltraScale+
Intel® SoC FPGA, Xilinx Zinq SoC
High speed serial interface
PCIexpress
Serial RapidIO
Optical Interface (SFP,SFP+,QSFP)
Video Interface
V-by-One HS
HDMI
DVI
DisplayPort
ARIB 12G/6G/3G/HD-SDI/U-SDI
CameraLink
MIPI
Memory Interface
DDR4-2400Mbps
DDR3-1866Mbps
SD UHS-I/II,eMMC
Network interface
EtherCAT
CAN
MECHATROLINK
100Gb/10Gb Ethernet
Wireless
General-purpose interface
USB
SATA
Embedded processor
MicroBlaze,NIOS
Intel Atom®
Various ARM SoC
OS, firmware
Linux
WindowsEmbedded
BIOS
DLP application
Direct Lithography
High Speed Projector
Power electronics
Conversion to electric power (AC→DC→DC→AC)
Power electronics-related design service
We provide one-stop services from prototype production to mass production to support in response to customer specifications and demands.
Inquiries for Design & Manufacturing Services
Consultations and quotations for Design & Manufacturing Services are available from the inquiry form.