Products & Services
Design & Manufacturing Services
Power electronics-related design service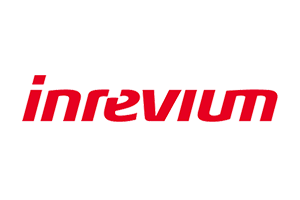 We provide one-stop services from prototype production to mass production to support in response to customer specifications and requirements.
We possess all power conversion (AC-DC-DC-AC) technicals, and can handle up to 25kW.
What is power electronics-related consigned development?
This is a technical field for quick and efficient conversion of direct current (DC), alternating current (AC), frequency, etc. of electricity.
We focus on this field and work on elemental research, product and consigned development.
We possess all power conversion (AC-DC-DC-AC) techniques.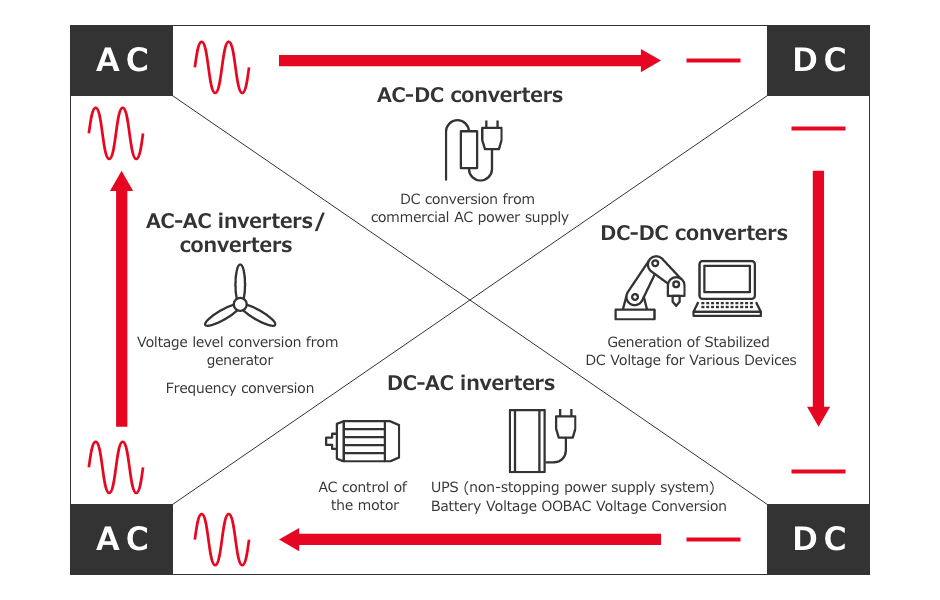 Available specification range
Section
Function
Input voltage
Output voltage
Electric current
Electric power
Remarks
1
DC/DC
650V
380V
200A
25kW
2
AC/DC
380Vac(3-phase)
380Vdc
38A AC
25kW
3
DC/AC
380Vdc
200Vac(3-phase)
38A AC
13kW
4
LED drive
24Vdc
80Vdc
0.5A
1.2kW
Multi-system support
5
Motor control
700Vdc
-
600Arms
150kW
※1
6
Charging Controller
300V(BT)
380V
100A(BT)
25kW
7
Utility Interactive Inverter
380VDC
380VAC(3-phase)
38A AC
25kW
8
PV/Wind Converter
650V(PV)
380V
39A(PV)
25kW
Section
Function
Input voltage
Power element
rated voltage

※2

Power element
rated current

※2

CMTI
Remarks
9
Gate drive board
15V
1,200V
100A
100kV/us
※ The above figures indicate typical maximum values.
※1

Development system that includes our development subcontractors

※2

Adaptable power element rating
e.g. Si-MOSFET, IGBT, SiC-MOSFET
Development of System Power Sources for Renewable Energy
This system conducts conditioning of solar and wind power generation power through storage batteries, enabling in-house consumption in the factory or sales of electricity through grid-connected systems.
■Sample system configuration
Digital power supply
DC-DC converters for photovoltaic power generation
AC-DC converters for wind power generation
Grid-connected DC-AC inverters
Storage battery charge controller
■Advantages of development
Can flexibly respond to diverse power source developments by possessing all power conversion (ACOOBDCOOBDCOOBAC) techniques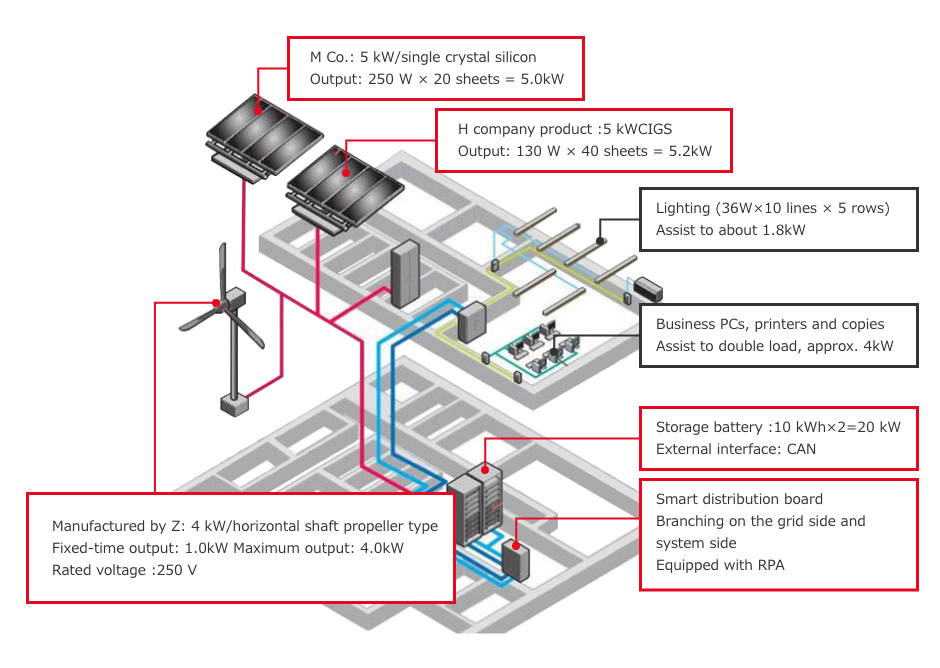 Related links: Tokyo Electron Device Nagasaki
Outsourced development using deep ultraviolet LED
The system power supply and LED module for deep ultraviolet LED can be developed.
As a replacement for mercury lamps, harmless deep UV LEDs are expected in a variety of applications.
■Sample system configuration
LED Modules (Water-cooled, Air-cooled)
System power
ーACDC converters
ーMulti-system constant current circuit
ーLED high-precision constant current variable control
ーLED status monitoring and logging
ーProtection functions (LED open, LED short, LED overvoltage, overheat, etc.)
ーHigh-layer communication I/F (PC/PLC)
ーSupporting multiple systems through parallel use of equipment
■Advantages of development
Flexibly adapts to a wide range of specifications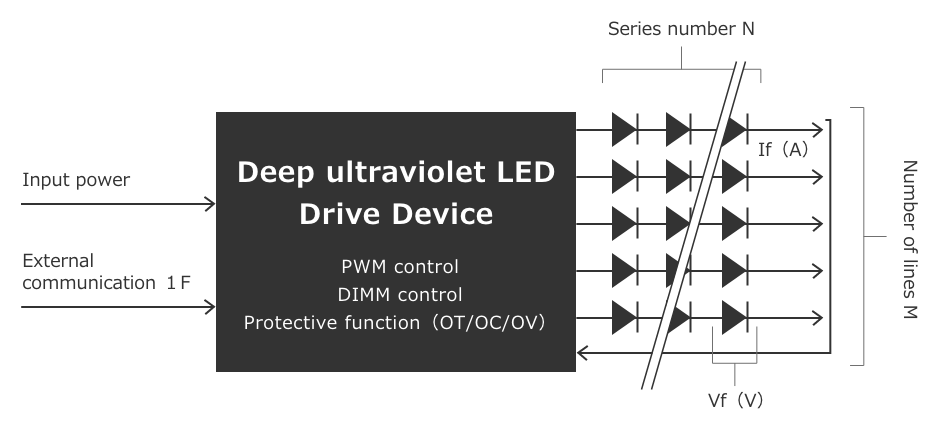 Example of functional block
■Expected applications
Equipment using ultraviolet mercury lamps
Clean water and sewage treatment facilities
Medical equipment
Impurity inspection equipment
Food sterilization
Removal of semiconductor manufacturing equipment contamination
■Example of development
This is an example of system power supply and LED module development for deep ultraviolet LED, for which system development was carried out for plants.
Flexibly accommodate a variety of specifications.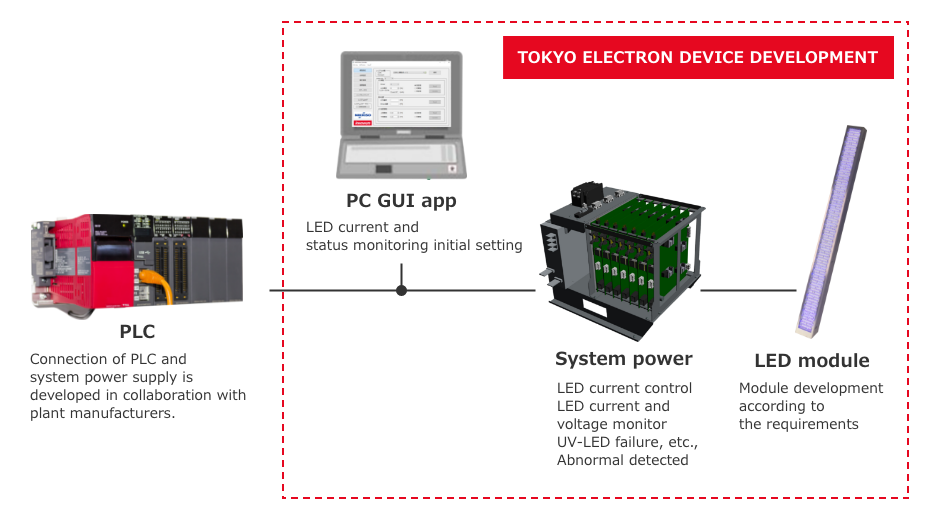 We handle deep ultraviolet LEDs as an authorized agent of Nikkiso Giken. Nikkiso Giken Co., Ltd. mass-produces deep ultraviolet LEDs with excellent luminous efficiency and a long life, and provides deep ultraviolet LEDs with industry-leading performance and quality.
Nikkiso Giken Co., Ltd. "Deep Ultraviolet LED"
https://www.nikkiso.co.jp/products/duv-led/index.html
Inquiries for Design & Manufacturing Services
Consultations and quotations for Design & Manufacturing Services are available from the inquiry form.