Time of Flight Camera
Products & Services
Evaluation Board & IP Core
Time of Flight Camera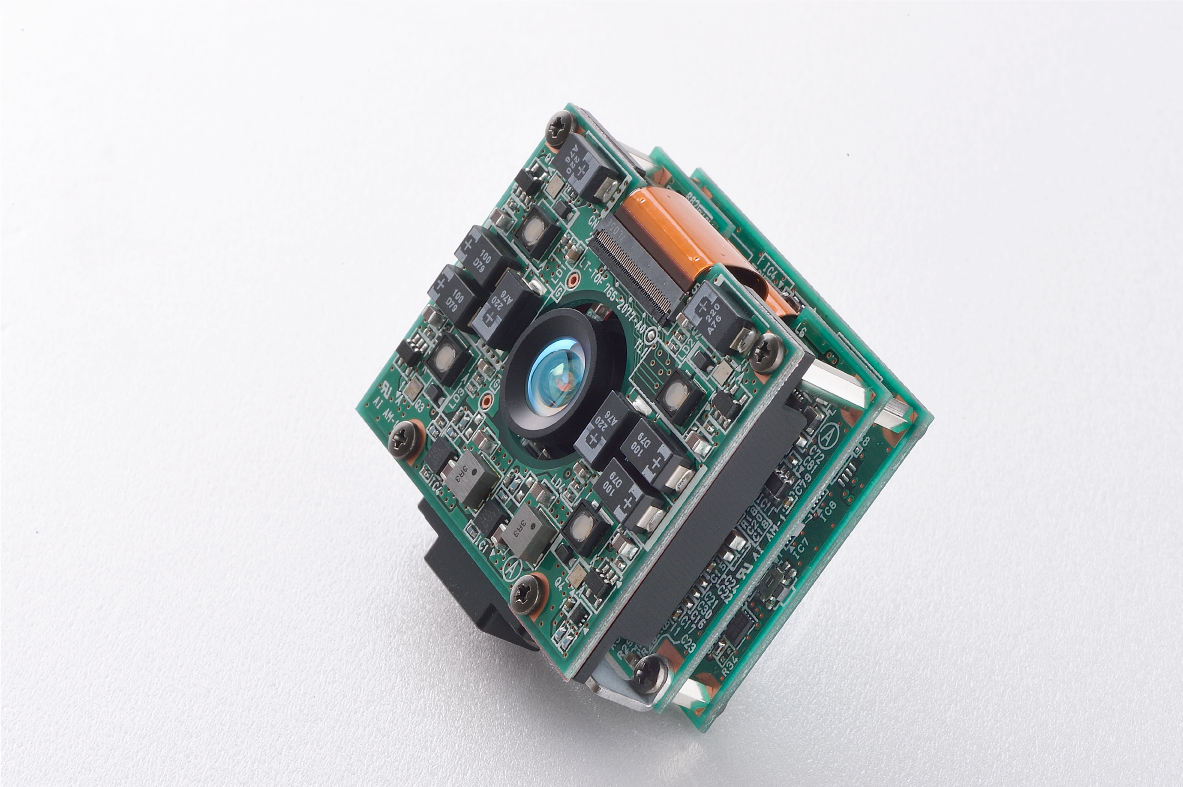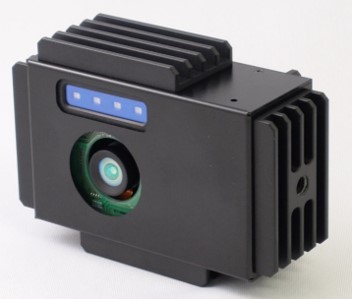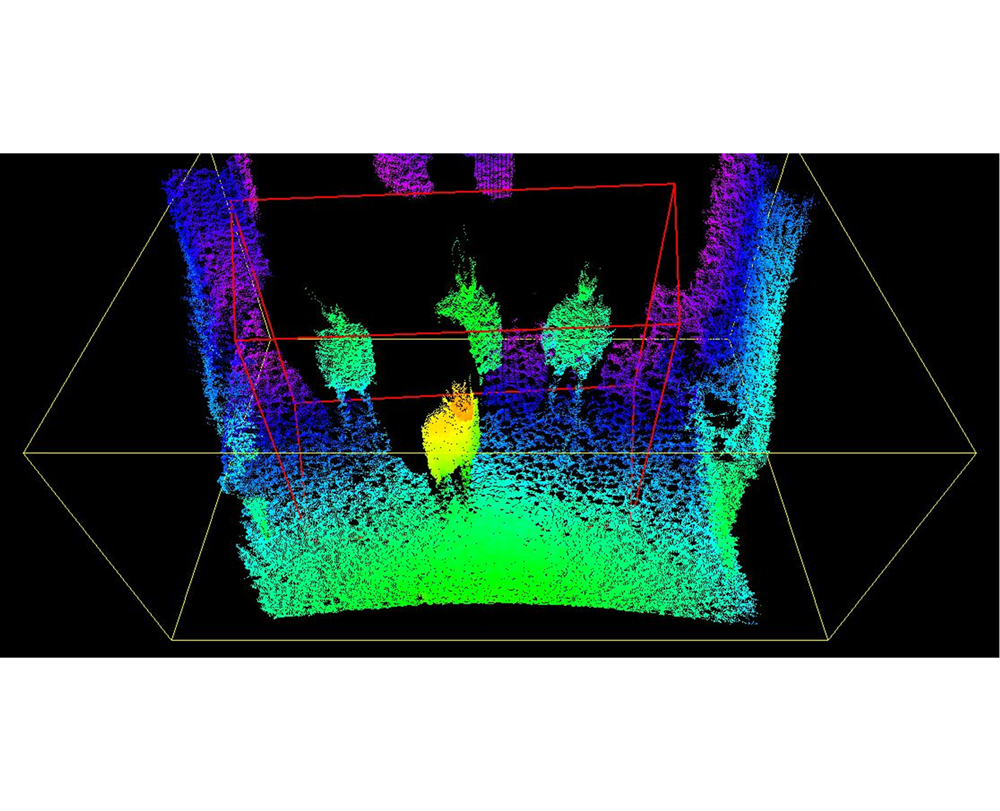 TOF(Time Of Flight) This compact camera module is equipped with ranging sensors using range measurement technology. The captured Depth images contain range information for each pixel. Distance information to the object can be obtained by "plane" instead of "point". By using Depth images, it is possible to recognize and measure images that require range data. It is also possible to recognize images in three-dimensional space by transforming straight-line coordinates. It also uses infrared light, so it can be used for monitoring applications in night vision, etc. TOKYO ELECTRON DEVICES offers this compact camera module as well as offers customization proposals that meet customer specifications. Through design services (subcontracted development), we can also supply products that more meet customer requirements.
Product specifications and features
■Compact TOF Camera Module Specifications Overview/Evaluation Environment
Item
TB-TOF-SQ930PU-IV
Resolution
640 X 480
Lens angle of view
Horizontal 90°, Vertical 70°
Light source
NIR Laser diode
Wavelength 940nm x 4 Class1
Detection Distance
0.3m – 5.0m
Output data
Depth, IR
Frame rate
30fps
Interface
USB3.0 (カメラ側:MicroB / PC側:TypeA)
Power supply
DC12V(9-16V)
Operating temperature
周囲温度0~45℃
Size/Weight
50mm x 40mm x 35mm / 55g
OS
window10 / Linux(Ubuntu 18.04)
■Evaluation platform
Provides Windows10 and Ubuntu18 04 example applications

Sample Application Operating Environment
Windows 10 Pro Version 1803 64bit
Ubuntu 18.04LTS (Linux Kernel 4.15.0)  ※
※: The environment assumes X64 series CPU. API source code provided (no support)
Sample Application Design Environment (Windows version)
Microsoft Visual Studio Professional 2015
Language :C#
Library:OpenCVSharp3
Sample applications that can be immediately evaluated on a PC base are available. Parameter settings, image display, capture, and data storage to the TOF camera are possible. The source code for the sample application is provided with the design environment.
■Outline of specifications for the new TOF camera
(under development: scheduled to begin receiving orders in November 2020)
We are developing a TOF-camera module featuring improved light resistance and in-camera Point Cloud transformation.
項目
TB-TOF-EA930SU-IV
Resolution
640 X 480
Lens angle of view
Horizontal 90°, Vertical 67.5°
Light source
Four NIR laser diodes (940nm) *Planned for Class1
Diffuser: Horizontal 87°, Vertical 67°
Detection Distance
Distance: 0. 3m ~ 5m *Possible change in final evaluation
Output data
Depth, IR, Point Cloud(X,Y,Z)
Frame rate
30fps (Depth,IR Out) /15fps (Depth,IR + Point Cloud Out)
Interface
USB3.0 (カメラ側:MicroB / PC側:TypeA)
Power supply
DC12V, 5A_Max
Operating temperature
Ambient temperature 0~45℃
Size/Weight
100 mm × 70 mm × 50.3 mm * Possible chassis specification change
OS
window10 / Linux(Ubuntu 18.04)
■New model TOF Camera Output Data
Cartesian coordinate transformation (X, Y, Z) is performed inside the camera and output to the outside.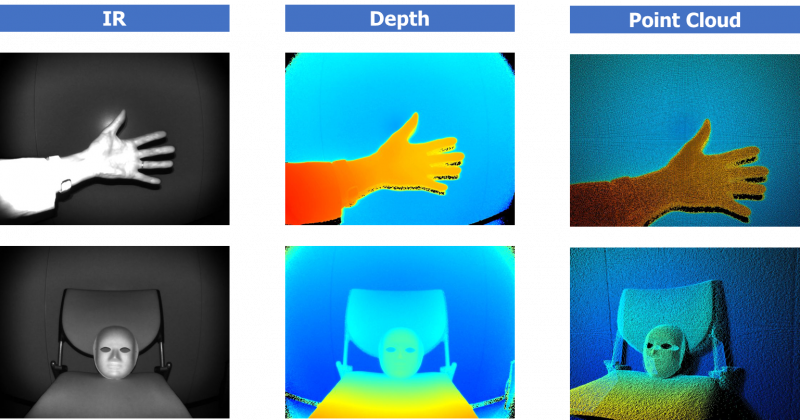 ■ Interim evaluation of new TOF camera indoor and outdoor comparison (plants)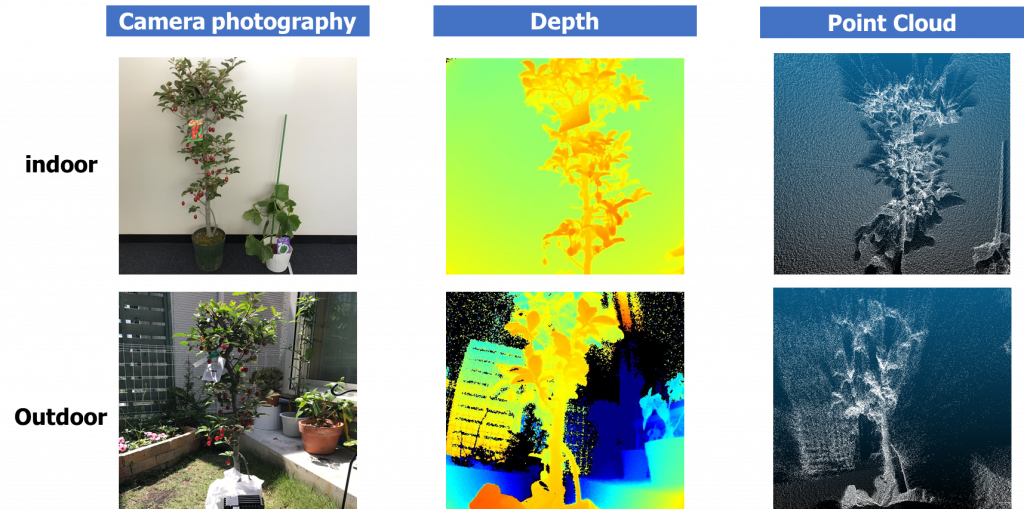 Ranging solution
We will propose applications using the TOF camera in collaboration with partners. Customization to meet customer requirements is also possible.
■Human Flow Detection Solution
We propose TOF cameras and people counters in collaboration with a human recognition library (Alpha/Alpha Technology). The count of the number of persons in the designated area can be measured over time.

Usage scene
・ Ascertaining the flow and congestion of people at facilities
・ Control of man-hours in the work area for the process
Customization and on-site verification based on customer specifications such as co-entrainment detection, enhanced recognition, and tracking are also available.
■ Solution for Mono Detection (for Distribution)
We offer a mono detection (for logistics) solution that can detect and measure rectangular parallelepiped using Brisen's ToF Camera Function Library (TFLib).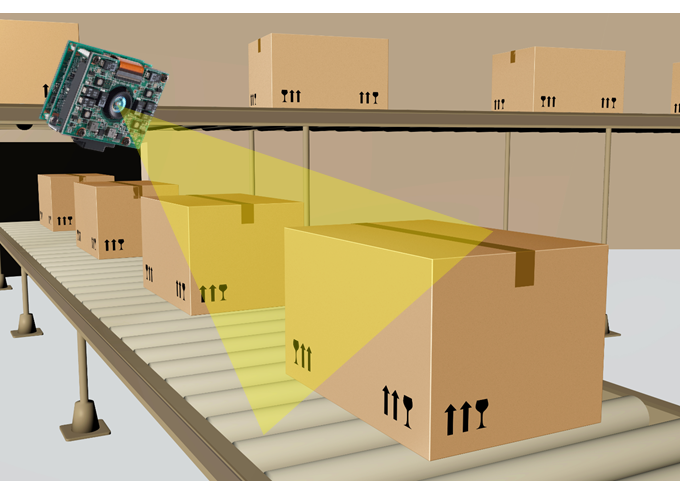 Evaluation environment


■Custom contracted service
We have developed "inrevium design services (consigned design services)/OEMs (consigned mass production services)". We will undertake the design, development, and manufacture of TOF cameras with customer-specific specifications, including customization of the angle of view and interfaces to meet the requirements, as well as housing and mechanism design. For customized free-of-charge online consultation servicesHereFrom.

Order information
■Compact TOF camera module
Product Model Number
TB-TOF-SQ930PU-IV
Deliverables
TOF camera module
Power harness cable
SDK
Manual
Remarks
Documents downloaded from the website dedicated to buyers on the TED Support Web
■New TOF camera
| | |
| --- | --- |
| Product Model Number | TB-TOF-EA930SU-IV |
| Deliverables | TBD |
Contact Us
Please feel free to contact us.
Post-purchase technical support
Product appearance