Cassia Networks BLE Gateway
Products & Services
IoT service [Communication]
Cassia Networks BLE Gateway


The Cassia enterprise Bluetooth networking solution for the Internet of Things (IoT) includes long-range Bluetooth routers (up to 1,000 feet) – the S2000, X1000, and E1000 – as well as the IoT Access Controller (AC) for remote management of enterprise Bluetooth networks.
Cassia provides the following key advantages :
・Seamless Bluetooth coverage for cost-effective IoT deployments
・Easy deployment and management of hundreds of routers and thousands of devices from a centralized interface
・Bluetooth locationing for precise tracking of people and assets
・Enhanced security and centralized management of IoT environments from anywhere in the world
・Industry agnostic products that work across many commercial, enterprise or industrial applications
Cassia Bluetooth router E1000/X1000
Cassia Networks's Bluetooth routers solve the issue of distance and number of connected units when introducing BLE(Bluetooth Low Energy) into IoT.
Unique wireless processing technology enables communications over a distance of up to 300m without any special settings being made to the BLE device, and a maximum of 40 BLE devices can be connected with one more device.
It can also be used as a protocol gateway to translate BLE and IP protocols by connecting to the Internet through an Ethernet, Wi-Fi, or 3G/LTE USB dongle, and BLE devices can be accessed remotely over the Internet.

■Main Specifications
E1000
X1000
Installation location

Indoor

Indoor/Outdoor (Waterproof/Dust proof)
Number of connected units
Max. 40 units
Max. 22 units
Power feeding
PoE/USB
Only PoE
Other interfaces
10/100 BASE-T Etheernet
Reset button
LED(Wifi/BT/System/Ethernet/Power supply)
USB2.0(3G/LTE dongle)
WiFi(802.11 a/b/g/n/ac)
10/100/1000 BASE-T Etheernet
Reset button
LED(System/Power supply)
USB2.0(3G/LTE dongle)
WiFi(802.11 b/g/n)
Edge computing
Yes
Yes
Bluetooth LE
BLE4.2
BLE4.2
Authentication
FCC, IC, Telec, BQB, SRRC, CE
FCC, IC, Telec, BQB, SRRC, CE
Operating temperature range
0℃ to + 40℃
-40℃ to 65℃
External Dimensions
164mm(W) x 164mm(L) x 62mm(D)
154mm(W) x 143mm(L) x 259mm(D)
Cassia IoT access controller
The Cassia IoT Access Controller, an IoT network management solution, allows you to deploy and manage hundreds of Cassia Bluetooth routers, monitor BLE devices in your enterprise environment, and roam and locate BLE devices.
We also provide SDKs (Software Development Kit) for implementing applications and provide APIs (RESTful API).


Router administration screen of the Cassia IoT access controller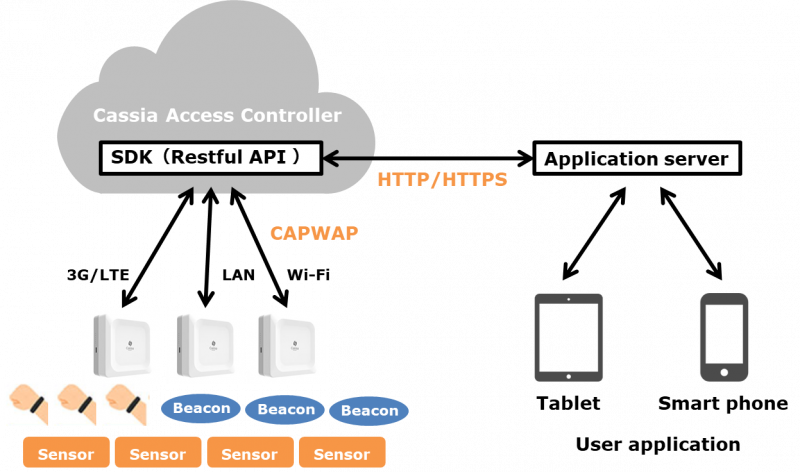 Cassia BLT kitting for Azure
The Cassia BLT Kit for Azure is an IoT system construction kit that can collect and visualize multi-sensor data of BLE devices in Microsoft Azure through Bluetooth routers and the Internet.
■Features
・IoT-kit using a Bluetooth router capable of communicating with BLE devices up to 300 meters away and simultaneously connecting up to 40 BLT devices
・The Cassia IoT access controller enables simultaneous control of router/BLE devices.
・Simplifies connecting to Azure IoT Hub, registering/deleting sensors, and sending with dedicated applications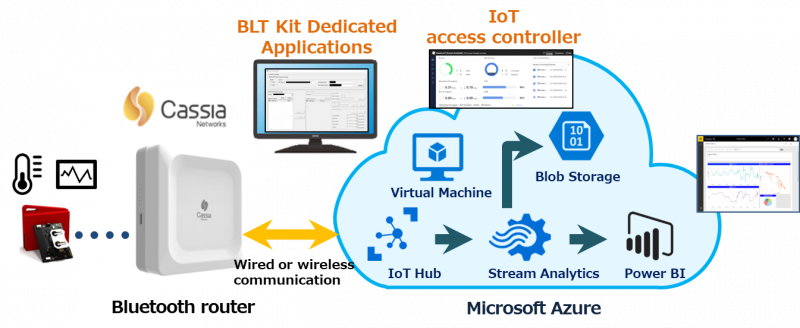 Related products
Contact Us
Please feel free to contact us.
Product appearance